S900 Mobile Payment Terminal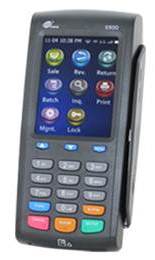 PAX's S900 is the world's most innovative mobile payment terminal powered by a secure and flexible Linux operating platform, featuring extended life battery, state of the art color touch screen and GPRS or 3G connectivity. It is the ideal solution for high-end retail and hospitality environments.
The S900 offers inbuilt NFC capability to accept mobile and contactless transactions, a powerful 32-bit ARM11 processor and massive amounts of memory via Micro SD to enable exceptional processing and multimedia performance.
The POS operating system of S900 supports rapid development of customized and secure software applications that give new meaning to the concept of payment and other value-added services.
PAX S900 Features
Exceptional stability and reliability
400MHz 32-bit ARM11 processor
Multiple connectivity options: GPRS / WCDMA
Built-in contactless / NFC
Advanced DDR technology
Sleek compact design with concealed thermal printer
High capacity Li-ion rechargeable battery
Supports e-Signature functionality
Unprecedented security
PCI PTS 3.x approved
Secure embedded area for keys, self-destruct mechanism if attacked
Supports RSA, AES, DES, 3DES
Supports HASH function
Supports DUKPT, MK/SK, FIXED KEY
Open & flexible operating system
Secure platform
Easy software application development
User-friendly interface with powerful GUI
Multi-tasking OS maintains application integrity
Plug-and-Play to extend functionality on-site