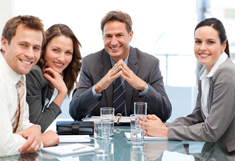 Albanian information technology market is increasingly developing. This offers new opportunities for talented professionals who are looking forward to entering this growing market by providing innovative hardware and software solutions to public and private sector. Symmetric is established 2010 in Tirana and since the first years has offered and extensive range of products and services. Symmetric has started its activities providing mainly consultancy service in Payment Applications, Business Process Optimization and Business Process Re- Engineering. Starting from 2010 Symmetric has given its support to various customers in Albania in Financial Sector, Telecommunication, Distribution Companies, Retails, Hospitality, Construction Companies, etc.
Having a clear vision for the future Symmetric is carefully selecting the technology that is offering in the market and combining the technology with the high experienced and motivated employees have given successful results in the past years. Furthermore Symmetric is improving the products and service portfolio with the technologies and trusted partners from all around world.

The key success factor of Symmetric is the high quality of services offering in the market and this is due to our highly skilled and professional human resources that day by day are creating strong competitive advantages in the market .